Matinkylän Huolto Oy
About us
Our property management business has been authorised by ISA since 1988.
Matinkylän Huolto differs from many other companies in the property sector in terms of its ownership and objectives. We are owned by our customers and we do not aim to make profit. Our primary objective is to provide our customers with the property management, property maintenance, environmental maintenance and construction services that they need - with high efficiency and quality to enable customers to preserve or increase the value of their assets depending on their own objectives.
Just around the corner
Our maintenance services are located in the centre of Matinkylä. Our customer service and property management services are located next to Länsiväylä, in Gräsantörmä. Our customer service is easy to find.
We also look after our members´  interests
Matinkylän Huolto Oy has made a strategic decision to participate in the development of the area in a wide range of ways, with the objective of safeguarding the value of our customers´ assets. Our extensive network enables us to maintain connections with various stakeholders, with a view to achieving the best outcome for the area as a whole. For decades we have been involved in all of the most important development projects in the area. Matinkyläs reputation as a place to live has improved enormously thanks to the joint efforts of our company, our customers in the area, the City of Espoo and important stakeholders. The Iso Omena shopping centre has played a major part in this. 
Educational and developmental activities
Modern property maintenance is a demanding business area, which requires accurate information to enable good decisions to be made. We constantly train our own personnel and work to develop the property-management expertise of our customers´ board members and representatives of residents´ committees. We arrange training events that are attended by expert speakers from the field.
Matinkylän Huolto Oy has done pioneering work in a number of development projects in the property management sector.
HISTORY
Matinkylän Huolto Oy was founded in 1969 by two people in a modest hut. But the area itself was modest. In the 1960s, the grounds of the Matinkylä Manor were still being used for arable farming.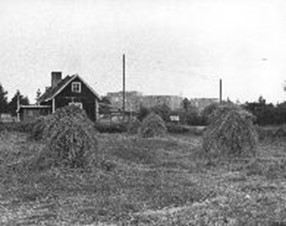 In the space of almost 50 years, the fields of Matinkylä have been transformed into one of Espoos most vibrant neighbourhoods. Matinkylä and Olari have amalgamated around the Iso Omena shopping centre and the large-scale commercial and residential developments in the area. Our main area of operations consists of one of Finlands fastest growing areas, which will be number one in Espoo for many years to come.
Matinkylän Huolto has expanded along with Matinkylä and its neighbouring areas. It has become a modern, expertise-driven property company with a wide range of services.